Thumbs Up High 5K nets $30,000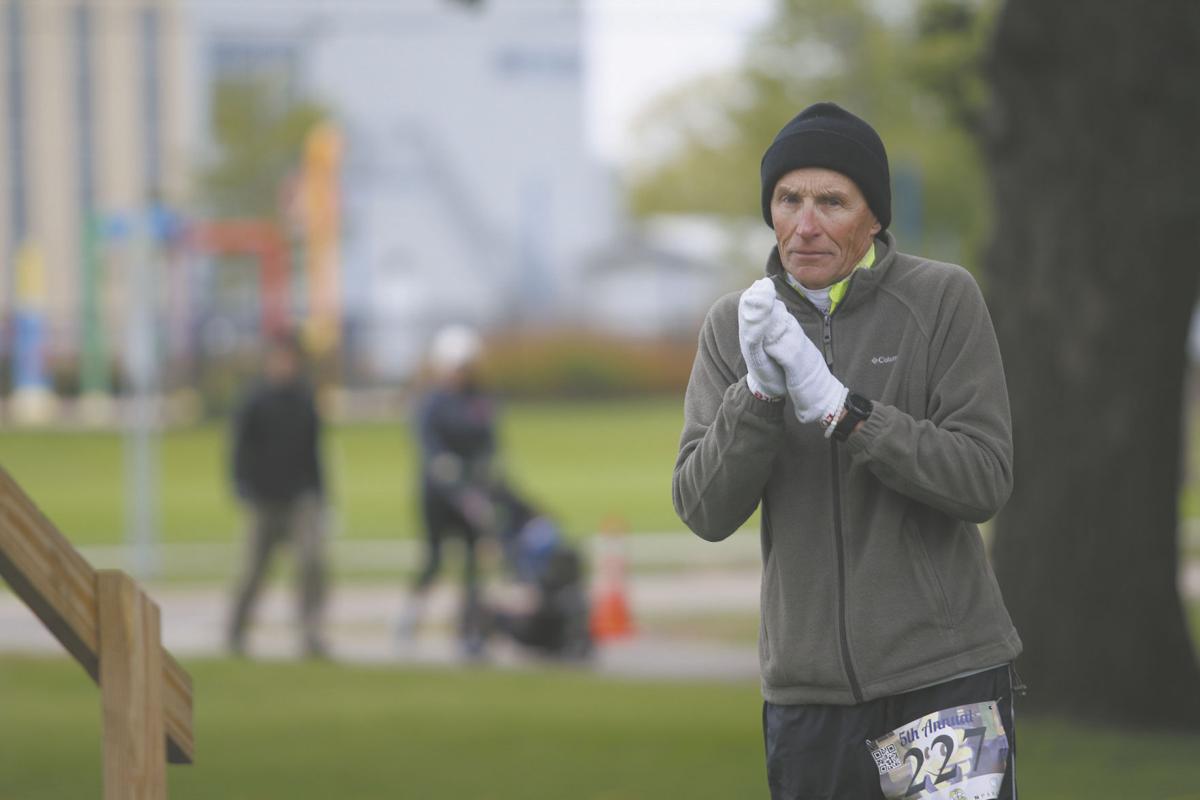 More than 400 participants in event raise money and awareness in fight for suicide prevention and improved care for mental illness sufferers
The fifth annual Thumbs Up High 5K and 10K on Sept. 29 at Lake Orono Park in Elk River raised $30,000 for the Thumbs Up organization's effort to raise mental health awareness and suicide prevention. That brings the running total to $125,000.
This year's event was the coldest with temperatures starting out the day in the 30s, but it still managed to attract 400- plus participants who walked, biked, ran, jogged and roller bladed either a 5K or 10K.
Famed distance runner Dick Beardsley was the keynote speaker. (See story on his talk in next week's newspaper.)
Thumbs Up High has been incredibly generous with its proceeds to help efforts at area high schools to get kids talking about mental health and getting their peers the help they need.
Among the groups that have been benefactors are the Yellow Ribbon Program at Elk River High School, the Save program at Spectrum High School and the Hush program at Rogers High School. It has also helped Open Doors for Youth, a ministry for teens experiencing homelessness and other issues. Thumbs Up has also done work to help people and groups with Post Traumatic Stress Disorder.
And this past year, the group connected with a Rogers family dealing with the loss of an ex-husband and father to two. Thumbs Up has funded a service dog for the family, who was introduced along with the family during opening ceremonies of the event. Tonya Marthaler is the mother to Samantha ("Sam") and Adam Peterson. The dog they were gifted in named Boomer
The family also participated in the run and bicycling portions of the event, and Adam won the bicycle race.
The event, however, is much more than a series of races and walks, as there is plenty of activity before and after the races, including booths offering services to help families and friends deal with mental health concerns for themselves or others.
Winners are recognized. Here's this year's winners:
10K Run
Men
1st Place – Dave Truchon – 40:19.5 (Blaine)
2nd Place – Brad Dehn – 40:47.2 (Ramsey)
3rd Place – Hans Curtis – 46:28.8 (Elk River)
Women
1st Place – Hanna Boleman – 50:12.3 (Mounds View)
2nd Place – Shannon Kilmartin – 52.08.8 (Stacy)
3rd Place – Cindy Ley – 55:03.5 (Elk River)
5K Run
Men
1st Place – Alex McCormick – 17:08.8 (Elk River)
2nd Place – Ian Colby – 20.23.7 (Rogers)
3rd Place – Chad Kreuser – 20.57.8 (Elk River)
Women's
1st Place – Kayla Conrad – 24:42.0 (Elk River)
2nd Place – Candy Dreshar – 25:10.6 (Andover)
3rd Place – Heather Kivisto – 25:55.5 (Princeton)
10K Bike
1st Place – Charles Leingag – 31.35.4 (Elk River)
2nd Place – Scott Mitchell – 34.51.1 (Elk River)
3rd Place – Michelle Reznicow – 35.44.5 (Elk River)
5K Bike
1st Place – Adam Peterson – 10:48.6 (Rogers)
2nd Place – Zachary Burma – 19.43.0 (Elk River)
3rd Place – Kristen Burma – 19:43.9 (Elk River)
http://thumbsuphigh5k.com/wp-content/uploads/2019/02/Beardsley.jpg
800
1200
katie
http://thumbsuphigh5k.wpengine.com/wp-content/uploads/2017/06/ThumbsUpHigh5K-Logo.png
katie
2019-02-25 21:58:21
2019-02-25 21:58:21
5th Annual Thumbs Up 5K & 10K in the news!